Let the magical properties of the Chautauqua Lake Chair by Wiljen Woodworks
sooth, relax you, and allow the days stresses to melt away…

Each Chautauqua Lake Chair is hand-built, one at a time, from
100% Western Red Cedar by local craftsman. Assembled with stainless steel
hardware and weather resistant adhesives for years of enjoyment with little to no maintenance required.
1. Our Western Red Cedar is brought in from the Pacific Northwest and hand-selected to give you an
heirloompiece of beauty to hand down to future generations.
2. Unlike similar items made from "poly-wood", our lumber of choice is thermo-cohesive
(it is cool when it's warm, and warm when it's cool) and is almost 50% lighter and easier to handle.
3. Recycling plastics may seem the way to go, but it omits carbon and toxins into the air during the
recycling process and still releases these after the recycling procedure.
4. Ours is a natural product that is grown in controlled "tree farms" and, during it's growth, absorbs
and purifies the air and continues to do so after it is prepared into our furniture.
5. Western Red Cedar contains natural oils and enzymes that repel insects, resist mold, defies decay, and
easy to maintain. The only thing you have to do is NOTHING! Let it sit out all year long.
Rain, sun, and even snow will not be a problem for this amazing wood. It will naturally mature to an
elegant shade of silvery gray, and will become smoother as it ages.
Don't let these facts decide for you… Just have a seat in this or any
Wiljen Woodworks Adirondack chair and you will see why it's
"Americas Favorite Chair"…
4320 Bayview Rd
Bemus Point, NY 14712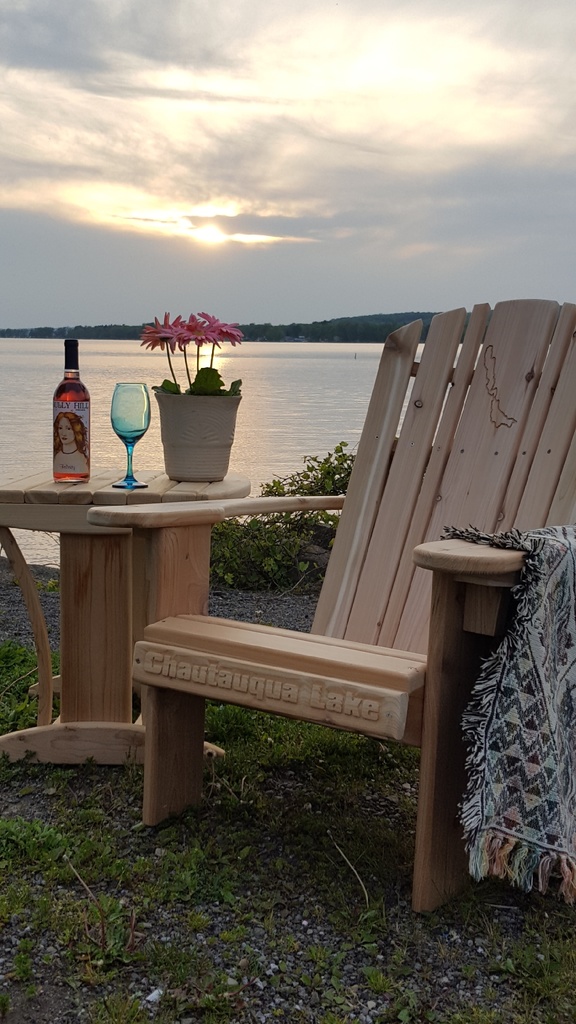 Limited Quantity of

Display

Chairs
at Stone Outdoor Living Center ONLY!!